Goodbye tight skin. Hello soft, dewy, supple skin. The secret to moisture-balanced skin is layering: Drench the skin in hyaluronic acid, the all-star humectant which draws water into the skin then feed the skin with a luxuriously nourishing moisturizer rich in skin barrier identical ingredients to replenish the skin before sealing off with a facial oil to lock that moisture in.
SHOP THE TARGETED KEY THREE PRODUCTS FOR DRY SKIN
Step 1
Draw water into the skin with 15 x concentrated cross-linked high molecular weight hyaluronic acid.


Step 2
Nourish the skin with this daily skin barrier-supporting moisturiser with 32 powerful functional actives.
Integrative Serum Facial Oil
Step 3
Slow down water loss from the skin while feeding and restoring the lipid barrier with this 100% active botanical facial oil.
REAL PEOPLE, REAL RESULTS
root4 the ultimate in performance-driven skincare and let the compliments roll in.
42 days of using the complete serum twice daily
28 days of using the face crème originale twice daily
Your products are phenomenal. The cleanser is the best thing my skin has ever come across.
I have never used more consistent products that make my skin feel so amazing every single day! It's a joy to do my facial routine morning and evening with these incredible products.
You have no idea how amazing my skin looks. Legit green liquid gold!
So I've been using the root4 products for a week now, and I really am loving them: My skin feels healthier, it's definitely clearer and even feels younger (less lined)! I'm sold!
Not just saying this but OMG my skin feels and looks amazing after 1 time use. Obsessed already.
What do you put in that green stuff? It's magic and I need more of it!
I've been using the face wash, serum and moisturizer for 2 days and I can already feel a difference! I'm very excited to see how my skin look it's in 2 months.
I have been blown away with the results.  It's been 6 weeks and my skin's elasticity has significantly improved and wrinkles definitely improved.
I love the green cleansing elixir, I have been using it since December 2022 and I can definitely see an improvement, I can now control my breakouts, huge benefits!
The products have been superb and people keep commenting on how good my skin is looking.
Love the results and it delivered all that was promised. I would like to congratulate you on a superior product range. It is truly remarkable.
My word your products are amazing! I've received so many compliments since using the nova oil about my skin! It feels amazing! Thank you so much
KEY INGREDIENTS IN THE DRY SKIN REGIMEN
Hyaluronic acid
Glycerin
Ceramides
Squalene
Cholesterol
Free fatty acids from botanical oils
d-panthenol
Niacinamide
Theobroma Cacao (Cocoa) Seed Butter
Candelilla wax
Rice bran
THE COMPLETE DRY SKIN REGIMEN
SHOP THE COMPLETE DRY SKIN REGIMEN AND GET ONE FULL SIZE PRODUCT FREE
Splash of water
Complete Serum
Face Crème Originale
Integrative Serum
3D Defence SPF50 Mineral Sunscreen
Cleansing Elixir
Complete Serum
Face Crème Originale
FREE FULL SIZE PRODUCT: NovA Oil
A splash of water (cleanse only if your skin feels oily or if you have been exercising)
Apply 1 pump of the antioxidant-rich Complete Serum with 15 x concentrated cross-linked high molecular weight hyaluronic acid to slightly damp skin
Wait 30 seconds for the Complete Serum to be full absorbed before applying the Face Crème Originale daily moisturiser
Apply 5 drops of the Integrative Serum facial oil. Rub your palms together to activate the botanical super-ingredients then gently press your warmed hands over the face, neck and décolletage until the oil has been entirely absorbed
3D defence SPF50 mineral sunscreen
Apply the 3D Defense SPF50 Mineral Sunscreen and then apply a second layer to ensure that you are putting on enough!
Preventing dehydrated skin starts with the correct cleanser free from harsh surfactants which strip the skin barrier: Double cleanse with the Cleansing Elixir: a gel cleanser reinforced with prebiotics and hyaluronic acid to hydrate while it gently cleanses and exfoliates the skin. Apply one pump to damp hands and massage on to the face while it lathers. Use a cotton pad to remove eye make-up. Wash off with lukewarm water. Lather up again, rinse with warm water and gently dry the skin. Twice a week, rub the cleanser in entirely for fifteen minutes to restore a more youthful microbial balance and to exfoliate the skin more deeply for a faster cellular turnover
Apply 1 pump of the ultra-rejuvenating peptide and hyaluronic acid-rich Complete Serum to slightly damp skin
Wait 30 seconds for the Complete Serum to be full absorbed before applying the Face Crème Originale daily moisturiser
integrative serum or novA oil
Apply 5 drops of the 100% active Integrative Serum Facial Oil or advance your regimen further by using 1 pump of the NovA Retinoid Oil as your final night-time step if you are looking to address fine lines and wrinkles or pigmentation. The NovA Retinoid facial oil is 100% active, advanced strength Vitamin A so it is recommended that you phase it into your regimen slowly. Use twice a week for the first 2 weeks then alternate nights for a further 2 weeks then nightly.
Chemical exfoliation with the MultiMasker: Gently resurface the skin and lift away dull 'dead' skin cells with ultra-hydrating and resurfacing lactic acid in this two-minute flash peel. The skin will look instantly brighter and smoother and will be optimally primed for maximum absorption of skincare functional actives to follow. Apply generously to dry, cleansed skin as you would a mask. Leave on for two minutes then gently massage using circular motions while washing off with lukewarm water. Expect tingling but wash off earlier if this becomes too much for you. Once washed off, apply the Complete Serum followed by the Face Crème Originale moisturiser and Integrative Serum or NovA Oil and you will feel the tingling instantly calm. You can exceed the 2min time frame, but please do so with caution to avoid over stimulating and irritating the skin. Start using just once a week after cleansing and build up as tolerated.
is your skin dry or dehydrated?
Does your skin feel dry, tight, itchy, sensitive and look flaky, dull, lack-lustre and rough? This check-list is for you! First step: identify whether your skin is DRY or DEHYDRATED.
DRY vs dehydrated SKIN
which one are you?
lack of natural sebum production
genetic skin type (inherited)
may experience eczema or premature ageing
skin can be dry all year round, being worse in winters
skin feels dry all over – face, scalp & body
genetics
hormones
thyroid or
skin problems
oil rich products
creams, oils, balms
lack of water
a skin condition any skin type may experience
may be temporary or seasonal
skin can feel oily and dry at the same time
may be more prone to break outs
weather
incorrect skincare
steam rooms
air conditioning
pollution
heat
water rich products
consider a humidifier
Remember: Dry skin wants OIL
Dehydrated skin wants WATER.
root4 has your skin covered for both! Layer your products for your healthiest, glowiest skin imaginable. Start by drawing water into the skin with the powerful humectants found in the Complete Serum then follow with our Face Crème Originale – rehab for your skin barrier. Seal the deal with one of our face oils. We love the Integrative Serum in the morning and our supercharged NovA Retinoid Oil at night.
Apply the Complete Serum to damp skin for next-level hydration.
root4 harnesses the moisturizing properties of skin-identicals: ingredients that can be found in the skin or mimic the things that can be found in the skin naturally. Ceramides, cholesterol, squalene and free fatty acids (think omegas and linoleic acid) are lipids in the outermost layer of the skin. They form part of the gooey stuff between the skin cells which glues them together to form a good skin barrier, 'water-proofs' the skin and which allows for communication between our skin cells.
Safe. Scientific. Superior.
Everything you need and
nothing that you don't...
Dermatologist-developed products to defend, renew and liberate your skin
100%
powerful functional actives

environmental consciousness
0%
synthetic fragrance or colour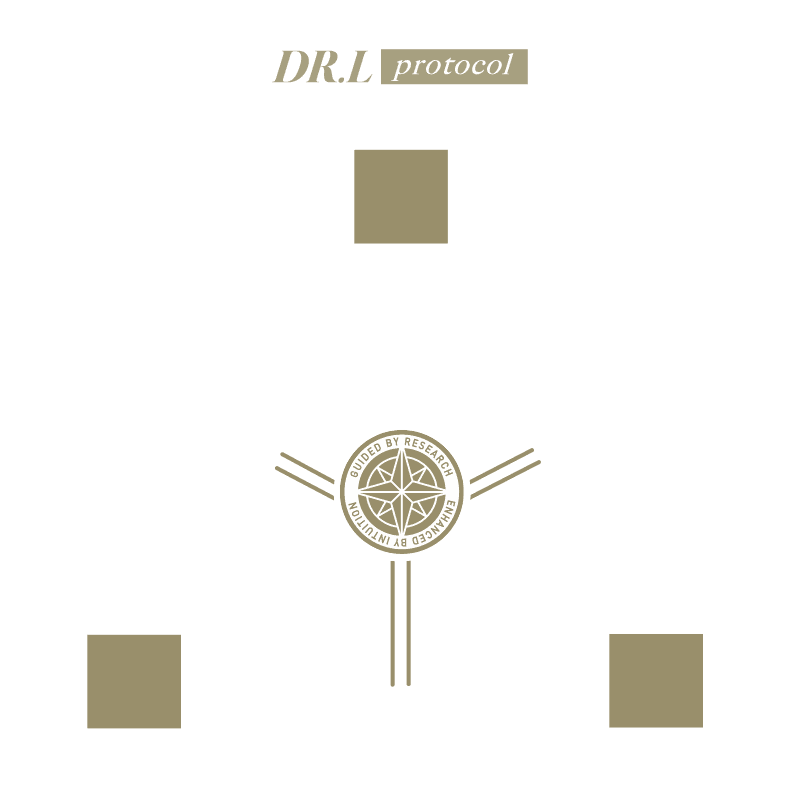 Each ingredient in the root4 range is meticulously considered to encompass the DR. L objectives of defend, renew and liberate – 3 specific skincare steps to your healthiest, most radiant skin.