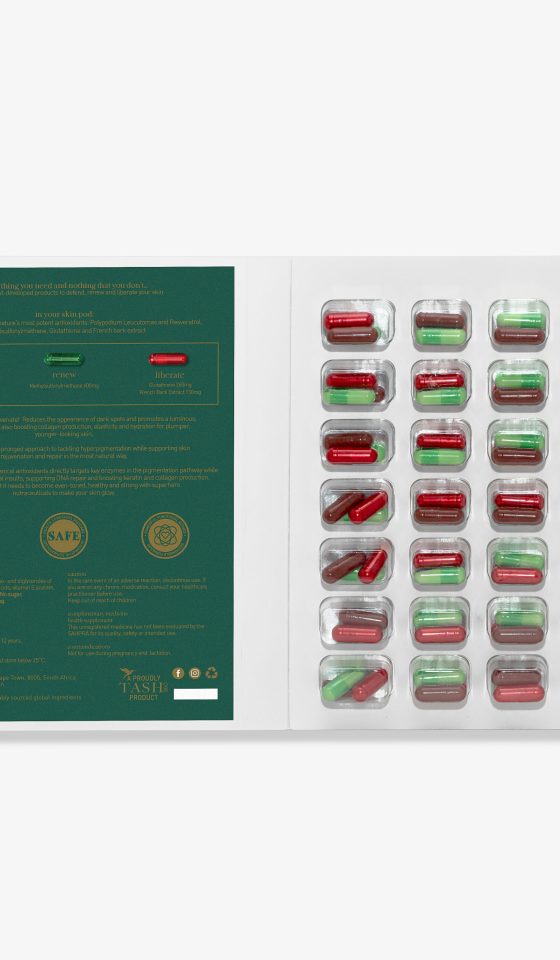 Protect, brighten and rejuvenate!
For overall brightening and discolouration defence. Benefit from this triple-pronged approach to preventing and reducing the appearance of hyperpigmentation. (With superhero nutraceuticals to make your skin glow.)
Your skin pod contains a powerful combination of nature's most potent antioxidants: Polypodium Leucotomas and Resveratrol, Methylsulfonylmethane (MSM), Glutathione and French bark extract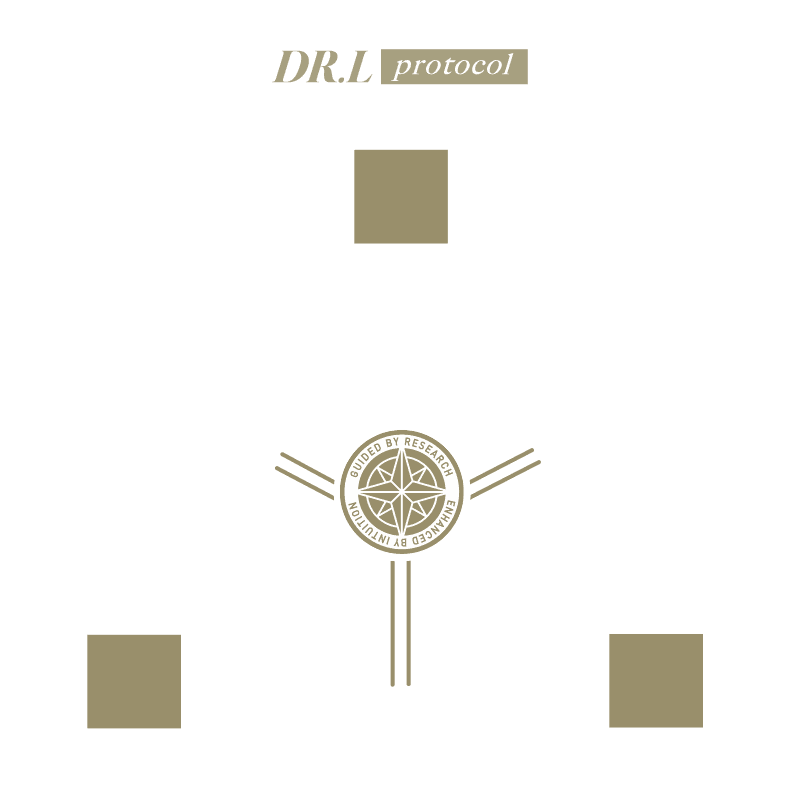 convenient daily skin pods underpinned by the DR. L protocol for inside-out healthy skin.
Dr Vanessa Lapiner empowers her patients to achieve Holistic Beauty by applying her groundbreaking DR. L protocol of defend, renew and liberate to the 3 pillars of the gut:brain:skin axis.
Polypodium Leucotomas 200mg / Resveratrol 90% 200mg
A powerful combination of polyphenols Polypodium Leucotomas and Resveratrol. Protection against skin- damaging free radicals and
UV. Potently antioxidant and anti-inflammatory, reduces the appearance of dark spots and promotes an even complexion while also boosting collagen production, elasticity and hydration for a brighter, more radiant skin.
MSM, Methylsulfonylmethane 600mg
Get brighter, plumper, more resilient skin. Support skin rejuvenation and repair in the most natural way. This antioxidant powerhouse supports the production of sulfur-containing amino acids to strengthen skin's structural component, keratin; lightens the appearance of pigmentation and supports collagen production.
Glutathione 260mg / French Bark Extract 130mg
Providing pigment-defying skin cell protection and brightening luminosity. French bark extract has been shown in studies
to lighten the appearance of pigmentation by 37% after just one month by interfering with the hormone (melanocyte- stimulating hormone) which stimulates pigment production in the skin. Glutathione is one of the most powerful tyrosinase-inhibitors: a key enzyme in the pigmentation pathway. These potent antioxidants supplement the benefits of daily sunscreen use while boosting skin hydration, increasing elasticity, stimulating new collagen production and reducing wrinkles from damaging UV rays for an even-toned, radiant and younger-looking skin.
Your healthiest, most radiant skin starts inside…
Pop one pod containing the three capsules out daily or break the seal on the back of the pack open with your finger and take the capsules with your biggest meal of the day.
For adults and children over the age of 12 years. In the rare event of an adverse reaction, discontinue use. If you are on any chronic medication, consult your healthcare practitioner before use. Keep out of reach of children. Not for use during pregnancy or lactation.
Coconut oil fractionated, lecithins, mono- and diglycerides of fatty acids, polyglycerol esters of fatty acids, vitamin E acetate, silica
Your skin pod contains a powerful combination of nature's most potent antioxidants: Polypodium Leucotomas and Resveratrol, Methylsulfonylmethane (MSM), Glutathione and French bark extract