This serum is 100% active plant-based superfood for your skin.
pomegranate seed oil/ almond seed oil/ rosehip oil/ jojoba oil/ rapeseed oil/ rose oil/ sacred sandalwood oil/ myrrh oil/ sacred frankincense oil/ helichrysum oil/ blue tansy oil/ jasmine oil/ ylang ylang oil/ roman chamomile oil/ neroli oil/ geranium oil/patchouli oil/ rosewood oil/royal hawaiian sandalwood oil/ coriander oil/ palmarosa oil/ lavender oil/ vetiver oil/ lemon oil/ rosemary oil/ bergamot oil
about our integrative serum
This synergistic oil richly and deeply penetrates and nourishes the skin. Complex nutrient-dense and luxurious oils rich in antioxidants, vitamins, phytonutrients and omegas have been infused with 21 of the purest, steam-distilled essential oils sourced from 16 countries to enrich, repair and enliven the skin for a dewy hydration and glow. The result? A serum which is a feast for the skin, eyes and soul.
LIKE A MINI WELLNESS RETREAT
With natural antimicrobials such as Rosemary, Palmarosa and Patchouli and powerful botanicals such as Blue Tansy, it calms and heals the skin to reduce redness while Sacred Frankincense and Rose rejuvenate the skin for uplifting, youthful radiance.
*The colour, scent and texture of our products may vary owing to natural compounds used.
rejuvenates and illuminates
Sacred Frankincense, Rose, Neroli, Sacred Sandalwood, Myrrh, Geranium, Ylang Ylang
antioxidant and soothes inflammation
Punicic acid from Pomegranate seed oil, Rosehip oil, Helichrysum
calms redness
Chamazulene from Tanacetum Annum (Blue Tansy) oil
clarifies and treats breakouts
Rosemary, Palmarosa, Patchouli, Roman Chamomile, Vetiver
Half a dropper is recommended. Rub your palms together to activate the botanical super-ingredients and take a moment to create a scent-tent with your palms. Cup your hands over your face and allow yourself to inhale deeply for 3-5 full breaths. Gently press your warmed hands over the face, neck and décolletage until the oil has been entirely absorbed. Don't be surprised if you are stopped and asked what new scent you are wearing. It smells that amazing.
(Think of this as therapy for both skin and soul. Take the time during the inhalations to focus on mindfulness.)
Your products are phenomenal. The cleanser is the best thing my skin has ever come across.
I have never used more consistent products that make my skin feel so amazing every single day! It's a joy to do my facial routine morning and evening with these incredible products.
You have no idea how amazing my skin looks. Legit green liquid gold!
So I've been using the root4 products for a week now, and I really am loving them: My skin feels healthier, it's definitely clearer and even feels younger (less lined)! I'm sold!
Not just saying this but OMG my skin feels and looks amazing after 1 time use. Obsessed already.
What do you put in that green stuff? It's magic and I need more of it!
I've been using the face wash, serum and moisturizer for 2 days and I can already feel a difference! I'm very excited to see how my skin look it's in 2 months.
This is truly a remarkable product. The Face Crème Originale nourishes and protects my skin. I have a very oily completion and this product does not sit on my skin. It gets absorbed into skin and my skin feels nourished and not oily.
I have been blown away with the results.  It's been 6 weeks and my skin's elasticity has significantly improved and wrinkles definitely improved.
I love the green cleansing elixir, I have been using it since December 2022 and I can definitely see an improvement, I can now control my breakouts, huge benefits!
The products have been superb and people keep commenting on how good my skin is looking.
Love the results and it delivered all that was promised. I would like to congratulate you on a superior product range. It is truly remarkable.
My word your products are amazing! I've received so many compliments since using the nova oil about my skin! It feels amazing! Thank you so much
"This can be used on its own or preceding the Face Crème Originale for added hydration particularly during the winter months. Just two drops under the 3D Defense mineral sunscreen makes blending a dream. "
Everything you need and
nothing that you don't...
Dermatologist-developed products to defend, renew and liberate your skin
100%
powerful functional actives

environmental consciousness
0%
synthetic fragrance or colour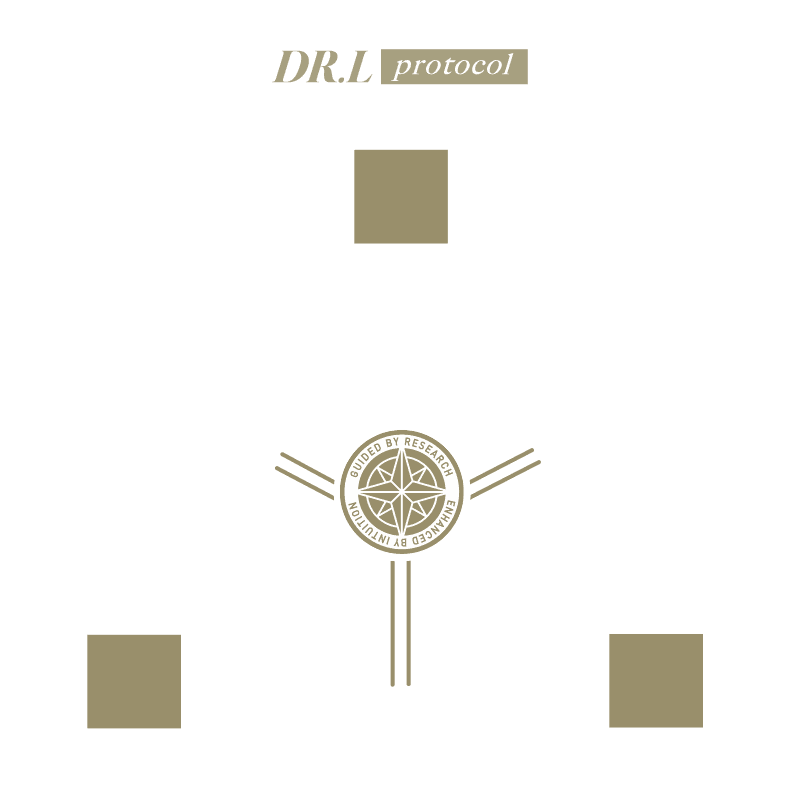 Each ingredient in the root4 range is meticulously considered to encompass the DR. L objectives of defend, renew and liberate – 3 specific skincare steps to your healthiest, most radiant skin.