Cleanse your skin while indulging in a clarifying, hydrating and resurfacing mask – leaving your skin silky smooth, illuminated and rejuvenated – all in the time it takes to brush your teeth!
clay extracts/ lactic acid/ prebiotics from chicory/ yoghurt extracts/ rice bran/ vit E/ jojoba butter/ glycerin/ urea/ candelilla wax/ chlorophyll/ malachite/ curcumin/ spirulina
One sensational product. Four extraordinary functions.
This cleanser which multitasks as a mask is a workhorse, drawing dirt, excess oil, make-up, pollution and toxins out of the pores while providing a gentle chemical exfoliation.
All while quenching the skin with enviable glow-inducing hydration.
Cleopatra's famed luxurious milk baths, which utilized the power of lactic acid to reveal baby-soft skin, have been combined with next generation clay extracts and nourishing skin barrier-loving oils to give you the ultimate softening mask. It also serves as the perfect primer for optimal absorption of any actives to follow.
Potentiate your in-office procedures with this skincare hack and give your skin a red-carpet treatment in your own home.
*The colour, scent and texture of our products may vary owing to natural compounds used.
Our exclusive complex of Chlorophyll, Malachite, Curcumin and Spirulina lightens sun spots and improves skin texture. Nothing short of extraordinary.
detoxifies and clarifies
Clay extracts(10%)
resurfaces and brightens
Lactic acid (5%)
lightens pigmentation
Glow4Green Technology*
nourishes and deeply hydrates
Jojoba butter, Rice bran, Glycerin, Candelilla wax, Urea, Whey proteins, A and B Vitamins, Minerals, Lactose
balances the skin microbiome
Prebiotics from Chicory, Yoghurt constituents (2%)
TWO MINUTES TO HEALTHIER SKIN
Use once or twice a week and build up as tolerated. Apply generously to dry, cleansed skin as you would a mask. Leave on for two minutes then gently massage using circular motions while washing off with lukewarm water. Expect tingling but wash off earlier if this becomes too much for you. Once washed off, apply the Face Crème Originale generously and you will feel the tingling instantly calm. You can exceed the 2min time frame, but please do so with caution to avoid over-stimulating and irritating the skin. Please use caution if using with other active medicated products such as anti-acne prescription topicals or oral isotretinoin.
Your products are phenomenal. The cleanser is the best thing my skin has ever come across.
I have never used more consistent products that make my skin feel so amazing every single day! It's a joy to do my facial routine morning and evening with these incredible products.
You have no idea how amazing my skin looks. Legit green liquid gold!
So I've been using the root4 products for a week now, and I really am loving them: My skin feels healthier, it's definitely clearer and even feels younger (less lined)! I'm sold!
Not just saying this but OMG my skin feels and looks amazing after 1 time use. Obsessed already.
What do you put in that green stuff? It's magic and I need more of it!
I've been using the face wash, serum and moisturizer for 2 days and I can already feel a difference! I'm very excited to see how my skin look it's in 2 months.
This is truly a remarkable product. The Face Crème Originale nourishes and protects my skin. I have a very oily completion and this product does not sit on my skin. It gets absorbed into skin and my skin feels nourished and not oily.
I have been blown away with the results.  It's been 6 weeks and my skin's elasticity has significantly improved and wrinkles definitely improved.
I love the green cleansing elixir, I have been using it since December 2022 and I can definitely see an improvement, I can now control my breakouts, huge benefits!
The products have been superb and people keep commenting on how good my skin is looking.
Love the results and it delivered all that was promised. I would like to congratulate you on a superior product range. It is truly remarkable.
My word your products are amazing! I've received so many compliments since using the nova oil about my skin! It feels amazing! Thank you so much
"Apply prior to brushing teeth – once you're done with brushing your teeth, the two minutes will be up!"
Everything you need and
nothing that you don't...
Dermatologist-developed products to defend, renew and liberate your skin
100%
powerful functional actives

environmental consciousness
0%
synthetic fragrance or colour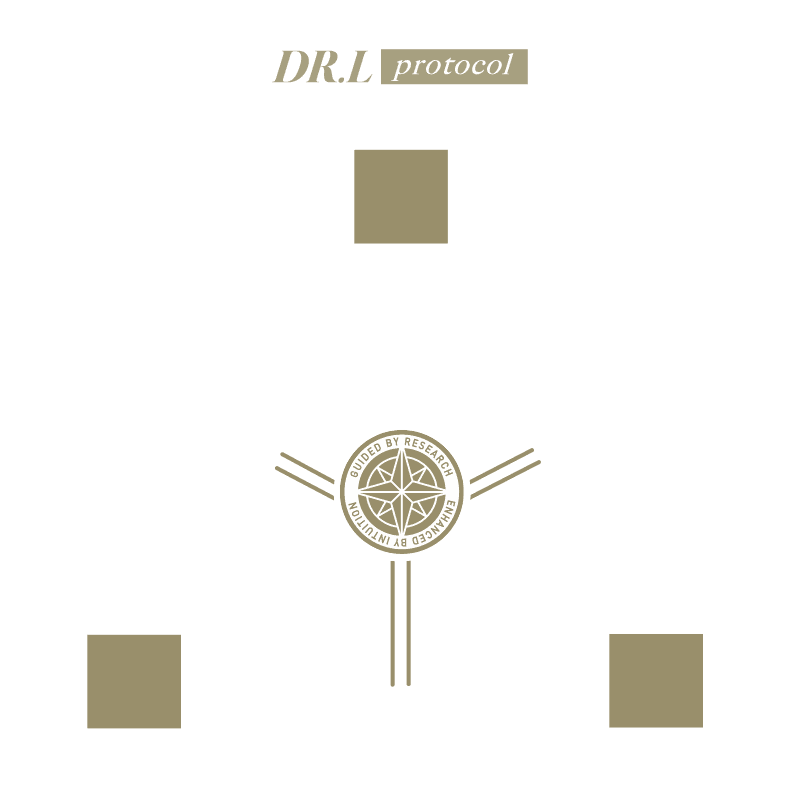 Each ingredient in the root4 range is meticulously considered to encompass the DR. L objectives of defend, renew and liberate – 3 specific skincare steps to your healthiest, most radiant skin.